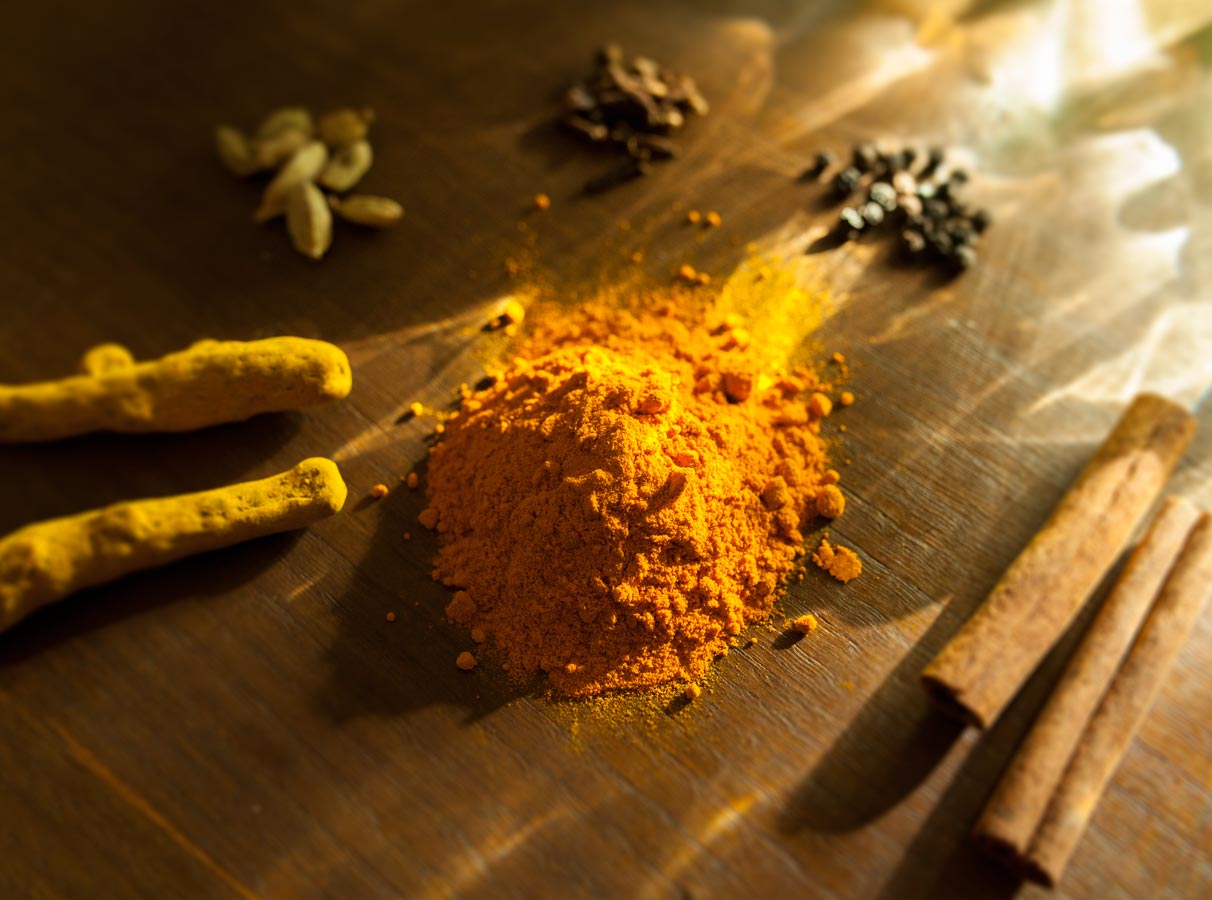 Hereafter you will find some of my favourite immune system strengthen & cleansing teas inspired from Ayurvedic Medicine.
Best is to start your day with this infusions on a empty stomach to cleansing the system.
Take your breakfast only 30 Min. after.
It can be very beneficial to have multiple flasks of tea to alternate throughout the day.
One with cumin tea, one with ginger and lemon, and one with fresh turmeric root tea.
Try to seek out organic ingredients for your tea and make sure you wash your turmeric, ginger and lemons well before use.
Turmeric – Ginger Tea
Turmeric is an anti-inflammatory and anti-carcinogen, and ginger not only boosts your immune system but it helps cleanse your lymphatic system. If you have the cold or flu, or want to stay healthy this cold weather season, I really would drink this turmeric tea every day, ideally on a empty stomach.
This tea helps to prevent colds.
Ginger is warming, and both ginger and turmeric have anti-inflammatory properties.
Turmeric is a natural antibiotic. The lemon juice cleanses toxins, purifies the blood, and increases digestive fire (agni).
Ingredients
1 l water
Slices of  cm organic ginger of 4 cm, skin on

Slices of

2 cm organic turmeric root

,

skin on or

1 tsp ground turmeric
Pinch of black pepper
1 tsp of

virgin coconut oil

Peel of 1 organic lemon

4 tbsp lemon juice
2 tbsp natural sweetener
Add ginger and turmeric to hot water.
Simmer on low heat  for 5-10 minutes.
You don't want the infusion to boil, it's harmful to the nutrients in the turmeric.
Take off the heat and squeeze in the lemon juice and stir in the coconut oil.
---
Jeera Tea
Cumin treats sore throats, colds, arthritis, and also aids in digestion. Cumin is even known as the natural detoxifier.
Jeera water is one of the most common solution for indigestion, detoxification and weight loss.
Jeera-ginger tea is also a good combination. From the base, it helps keep digestive troubles away, removes toxins and supports a healthy gut. Secondly, the drink also helps ensure that your metabolism functions smoothly. Increasing your metabolism will help burn more calories as your activity during this day will be fuelled properly.
The body is unable to absorb nutrients properly that result in slower rate of waste elimination in case of poor digestion.
Jeera-infused water releases digestive enzymes that may sooth the digestion process and may help in relieving stomach problems like indigestion, bloating and acidity.
Ajwain is also rich in antioxidants that may flush out toxins from the body, besides improving our metabolism.
Ingredients
500 ml water

1

heaped

tsp

cumin seeds/jeera or mixed with carom seeds/ajwain

Instructions
Bring the water with cumin seeds to a boil.
Simmer on low heat  for 5-10 minutes.
Strain the boiled jeera water.
---
Lemongrass Tea
Lemongrass is packed with antioxidants that help in detoxing and cleansing you from within.
It helps in removal of toxins from the body by relieving fluid retention.
It has cytoprotective, antioxidant, anti-fungal and anti-inflammatory properties.
500 ml water

1-2 stalks lemongrass
Instructions
Bring the water with the chopped grass to a boil.
Simmer on low heat  for 5-10 minutes.
---
CCF
It's a traditional Ayurvedic tea blend designed to support the digestive system and promote a very gentle detoxification.
The alchemy of these three spices created a balanced, effective, natural gut cleanser. In Ayurveda, all imbalances begin in the gut and supporting gut health is a key aspect to balanced health. When the digestive system is strong, free of blockage, congestion, stagnation, gas, undigested food, it not only supports nutrient absorption but also maintains vibrant health.
Benefits of Cumin
Stimulates agni (digestive fire)
Decreases gas
Helps with indigestion
Flushes out ama (toxic waste)
Relieves congestion
Contains antioxidants and iron
Soothes inflamed mucous membranes
Improves elimination
Benefits of Coriander
Improves digestion
Relieves gas
Helps with many pitta disorders, especially urinary or digestive
Increases digestion and absorption
Treats intestinal disorders
Aids indigestion
Calms muscle spasms
Reduces inflammation—even shown to help with rheumatoid arthritis
Benefits of Fennel
One of the best herbs for strengthening agni
Stops cramping
Increases mental alertness
Promotes breast milk flow
Helps with IBS
Relaxes the digestive tract
Alleviates gas and indigestion
Increases the burning of fat
Moves lymph
Ingredients
1 l water

1

tsp

coriander seeds

1

tsp

cumin seeds

1

tsp

fennel seed
Instructions
The simplest of recipes: combine equal parts organic cumin, coriander and fennel seeds, and store in a glass jar.
Bring the water with cumin seeds to a boil.
Simmer on low heat  for 5-10 minutes.
Strain the boiled water.