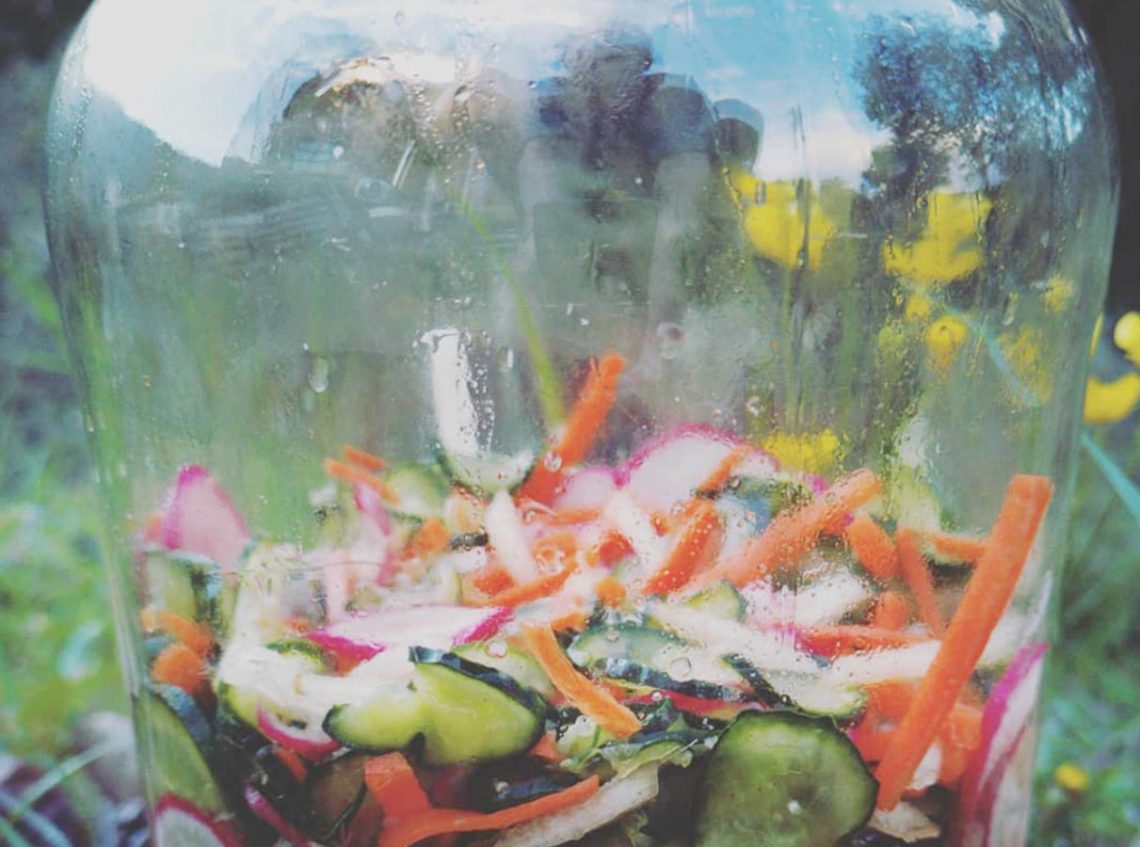 Fermented foods are one of the big topics at the moment. During my work at the yoga retreats, I developed this soft kimchi version for Yogi´s, inpired from temple food Chef Wookwan´s cucumber white kimchi. Enjoy !

Kimchi – the sister of my german Sauerkraut – is a traditional Korean dish made with salted, fermented vegetables. It typically contains cabbage and seasonings like sugar, salt, onions, garlic, ginger, and chili peppers and is fermented in a lacto-fermentation process for a few days to a few weeks before serving. Find herafter an easy recipe of my soft Yogi Cucumber Kimchi without cabbage.
---
Nutrition:

Fermentation: The process of fermentation enhances the digestibility and nutritional value of the vegetables, and when consumed, populates our intestinal flora with beneficial bacteria. Fermentation involves the use of micro-organisms to transform food from one state to another – sort of like cooking, but without the application of heat. In the right conditions, bacteria and yeasts will start to convert the natural sugars in foods into other compounds, such as alcohol or lactic acid.

Intestinal Flora: It is no coincidence that the gut is sometimes called ou "second brain". Somewhere between 800 and 1000 different bacteria species are living in the gut in total 40 trillion with a weight of 1,4 kg – about as much as your brain. They affect among others our body weight, a range of diseases and our emotions and well-being.
---
Eat before: Kimchy can be stored in a glass jar in the fridge up to several months, but pay attention that the vegetables are complete covered with the liquid.
Low waste: Don´t throw away the peels of the carrots. You can make a broth with peels of other root vegetables, collected during some days. With the peels of the ginger, you can make a energyzing cup of ginger tea.
---
Homemade Yuki´s Yoga Kimchi
Ingredients:
6 cucumber sliced with a Mandolina
3 pears cut in Juliennes
4 carrots cut in Juliennes
8 Tbsp grated fresh ginger
2 grated garlic gloves
4 Tbsp marplesyrup
2 Tsp smoked paprika
1 Tbsp Sea Salt
Option for a hot version: add 2 Tbsp korean chiliflakes
Garnish with toasted sesame seed.

Method:
Boil 750 ml of water with 50 g salt. Blanch sliced cucumber by poring this water over them and let rest for 30 minutes. Drain the salted water and rinse gently the cucumbers. In a mixing bowl, add all the other ingredients, mix well and put in a glass jar. Seal the jar, making sure that the cabbage is completly covered with water. Leave the jar at room temperature for 1-2 days. Open every day to release the carbon dioxide that is produced. Then store the kimchi in the refrigerator.
---
Want to read more about Fermenation?
Sandor Ellix Katz: The art of fermentation
René Redzepi: The Noma Guide to Fermentation
Niklas Ekstedt & Henrik Ennart: Happy Food