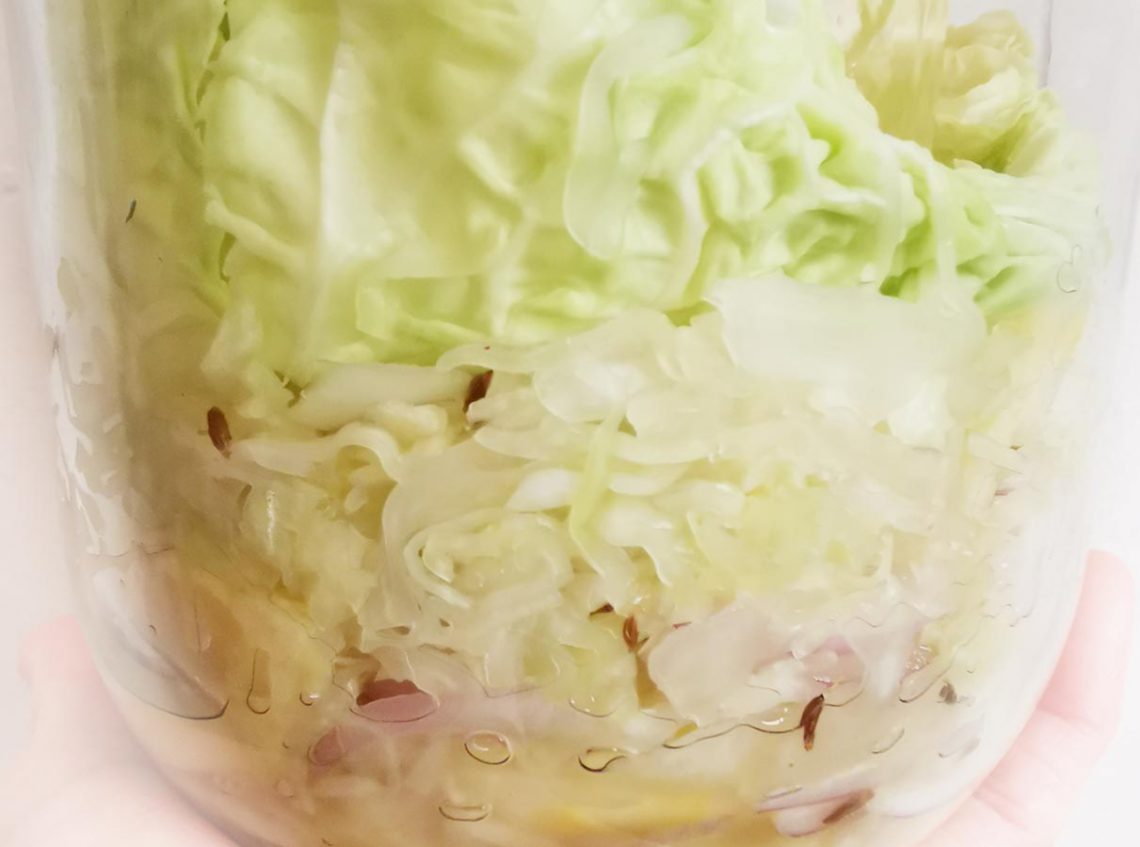 You find here related informations & recipes concerning my Kimchi Live Talk on IGTV .
Yuki TV is my new Live Channel – a Talkshow, Well-being & Cooking Channel with different thematics.
Edition 1 / 5.4.2020 / Menu: Happy Chucrute

Was so happy to talk in this edition on my Instagram to my special guests & specialists in fermentation:
Oliver Pell & Madelon Rooij from @endless.path.caminho.sem.fim.
Fermented foods, which in general are rich in lactobacilli are very beneficial for the intestinal flora and our health.
To name some: Soyjogurt, soykefir, probiotic-cultured cashewcheese, sauerkraut (chucrute), kimchi, tsukemono shiozuke, misozuke, tempeh, natto, miso, apple cider vinegar, kombucha,…
Fermentation: The process of fermentation enhances the digestibility and nutritional value of the vegetables, and when consumed, populates our intestinal flora with beneficial bacteria. Fermentation involves the use of micro-organisms to transform food from one state to another – sort of like cooking, but without the application of heat. In the right conditions, bacteria and yeasts will start to convert the natural sugars in foods into other compounds, such as alcohol or lactic acid.

Intestinal Flora: It is no coincidence that the gut is sometimes called ou "second brain". Somewhere between 800 and 1000 different bacteria species are living in the gut in total 40 trillion with a weight of 1,4 kg – about as much as your brain. They affect among others our body weight, a range of diseases and our emotions and well-being.
---
Sauerkraut & Kimchi is one of the easiest and cheapest fermented foods to make.
Nutrition: Fermented cabbage is an ancient conservation method to ensure Vitamin-C rich foods especially during winter.
Non pasteurized it improves energy and due to it´s high amount in lactic acid bacteria it is very healthy for the intestinal flora.
Hereafter one of my favorites:
Sauerkraut Method – Pickeled cabbage
Fermentation Conditions:
1) Warm temperature 20-35 °C
2) No oxygene
3) Liquid environment
Eat raw or only warm it up, but do not cook above 42°C, if not the beneficial bacterias will be destroyed.
Ingredients:
1 white unwashed, bio cabbage approx 1 kg take one entire leaf for afterwards, the rest finely cut.
20 g sea salt
Knead the cabbage with clean hands for 5-10 Min. in a big inoxbowl.
Add fruits/veggetable sand spices.
Knead well and fill in a clean glass jar.
Press down the mixture with the entire cabbageleaf and ensure that the liquid rises up and covers the kraut for optimum fermentation.
Leave out for 3-4 days at roomtemperature 20-30 °C
Store in the fridge.
Bavarian Style:
1 apple sliced
1 oignon finely cut
10 cloves
(10 juniper berries if available)
3 little bayleaves
1 tsp cumin
Kimchi Style:
1 apple sliced
2 carrots Julienne
1 oignon finely cut
1 tbsp ginger mini diced
2 tsp of korean chili
2 tsp paprika
1 tsp smoke paprika
Polnish Style:
1 apple sliced
1/2 oignon finely cut
2 red bell peppers finely cut
1 tbsp ginger mini diced
3 bayleaves
1/2 tsp cumin
Check also my Yogi Kimchi Recipe
---
Ginger Beer "Gingerette"
for 2 bottles

Ginger Syrup
make more can be stored in jar / fridge

200 g (1cup) granulated sugar
120 ml /1/2 cup) water
2 tbsp grated ginger = 50 g
Heat all ingredients on medium heat until sugar dissolves.
After 1h strain and let cool down. (The strained ginger can be used for Ginger Tea).
Ginger Beer
1/4 tsp active dry yeast
Ginger syrup
3 tbsp lemon juice
1700 ml water (7 cups)
In a big inox bowl mix all ingredients well until yeast dissolves.
Fill in clean glass bottles.
Leave at roomtemperature or better sunlight 2-3 days.
Open bottle daily.
Store it in the fridge and enjoy within 1-2 weeks.
---
Mum´s Sparkling Elderflower Wine
6 big clean Elderflowers
6 l water
6 organic lemons
1 kg sugar
1/4 l apple cider vinegar
Cut the lemon in slices. Pluck little flowers from stem. Mix all ingredients together until sugar dissolved.
Covered at roomtemperature for 2 days. Sieve and fill into clean glass bottles with twist – or snap lock.
Keep bottles upright and open daily. As soon as the misture starts to pearl, serve well chilled.
---
Homemade Sourdough Starter with Ryeflour (centeio)
4 day method (I learned this method from master of breadbaking Flippo from Pink Elephants.)
Ingredients:
Ryeflour, water and 25-30° roomtemperature.
Day 1 in the morning:
Mix 50 g of flour + 50 ml of water in a glass jar and leave covered at 25-30° roomtemperature.
Important: just put the lid on and do not close it completely.
Day 1 in the evening:
stir once.
Day 2 in the morning:
Add 50 g flour and 50 ml water to the prepared dough and stir well.
Let it rest in a warm place for 24 hours.
Day 3 in the morning: The dough should now have small bubbles
Add 50 g flour and 50 ml water to the prepared dough and stir well.
Let it rest in a warm place for 24 hours.
Day 4 in the morning:
Add 50 g flour and 50 ml water to the prepared dough and stir well.
Let it rest in a warm place for 24 hours.
Keep this starter until you bake in a clean Glass jar in the fridge.
Feed with flour and water every 2-4 days.
Yuki´s Sourdough Crunchpizza 
1 tray – 4 persons
250 g sourdough starter
200 g speltfour 630 (espelta)
50 g fine wheat semolina
1/2 package of dried baking yeast (3-4g)
50-80 ml lukewarm water
5 g sea salt
Method:
Add to yeast a bit of the water until little bubbles appear after appr. 10 min.
Combine all ingredients and kneat well.
Leave covered at roomtemperature min. 4 h.
Preheat oven 220 C°
Spread dough on a tray with baking paper and oliveoil.
Let sit another 30 Min.
Add Topping: I did this time a white pizza with some mixed vegetables:
1 red bell pepper, little black organic Olives from Portugal,
1 oignon, 2oog mushrooms, oregano, pinch of salt, oliveoil.
Put the Pizza in Oven and after 10 min lower temperature to 180 °C.
Another 15-20 Min. check if the dough is crunchy.
Enjoy !
---
Links and More Info about probiotic foods:
Sandor Katz: The art of fermentation.
René Redzepi & David Zilber: Foundations of flavor: The Noma guide to fermentation.
Heiko Antoniewicz: Fermentation.
ARTE: Microbiote: Les fabuleuxpouvoirs du ventre.